Children's ministries develops the faith of children from birth through age 14, leading them into union with God. It seeks to provide multiple ministries that will lead children to Jesus and disciple them in their daily walk with Him. It cooperates with the Sabbath School and other departments to provide religious education to children and fulfills its mission by developing a variety of grace-oriented ministries for children that are inclusive, service-oriented, leadership-building, safe, and evangelistic. Our offers weekly children programming during regular church services as well as annual programs such as: He is Risen Party, Vacation Bible School, and Fall Festival.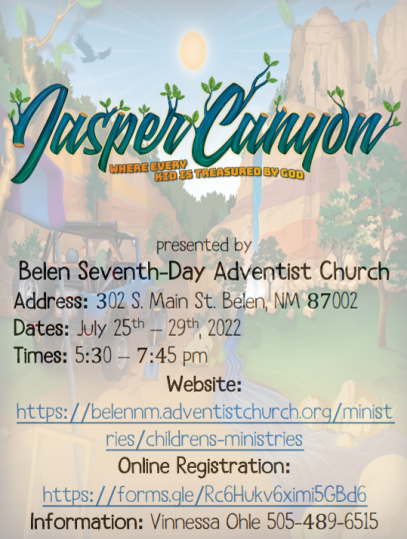 Vacation Bible School
Get ready for summer fun at Jasper Canyon: Where every kid is treasured by God! 
God treasures each one of us! At this VBS kids will have fun discovering the important treasures Jesus has given each one of them. Five days of Christ-centered activities will help them dig into the Bible to find out how uniquely special they really are!
Your kids will love the fun and interactive learning experience at Jasper Canyon. Children who are ages 5-12 or grades K-6th can be registered.
You can register your children in person at our church or online by following this link: VBS Registration Form.
If your child has special needs we can accommodate, please fill out this additional form: Special Needs Survey.
Volunteers
Any church volunteers who will be working with the children of our church and community must take required online training and background check. To access the training and background check please click here.